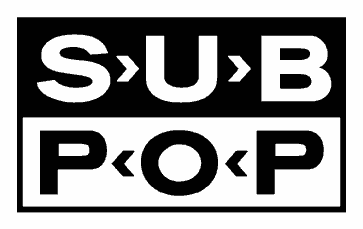 Legendary Seattle record label Sub Pop will be celebrating its 25th anniversary with a Silver Jubilee festival in their hometown on July 13. Although most famous as an integral part of the grunge explosion with Nirvana and Mudhoney, they've found success in more recent years with the Shins, the Postal Service and Fleet Foxes.
There are many ways to learn about their rich history. You could start by searching our catalog with the label name in quotes and limiting the format to audio to find
all our CDs issued by the label
.
Prefer video? Check out
Tad: Busted Circuits and Ringing Ears
(
DVD 4805
), which our catalog describes as, "The story of the Seattle based rock band Tad, their label Sub Pop, and the Seattle rock music scene in the late 1980s and 1990s." Or watch Hype! (
DVD 2983
) which is more about the rise of grunge than Sub Pop exclusively.
You've got several options if you prefer your history more text-based. The label's own
website
is a good starting place. If you want some outside perspective, company anniversaries often lead to press coverage with an overview of their backstory. The label's 20th anniversary garnered such articles.
Spin
and
Alternative Press
are our local periodicals collection, and older issues of
Billboard
are available
online
:
"AP: DIY - Label Profile: Sub Pop Records."
A.P. Alternative Press
08 2008: 58.
Harding, Cortney. "The Indie World: Q&A - Jonathan Poneman."
Billboard
Jun 28 2008: 25.
Kandell, Steve. "The Birthday Party."
Spin
09 2008: 98-100.