News broke yesterday that Fred Armisen had been named to lead the house band as Seth Meyers takes over on NBC's
Late Night
. While Armisen is best know for his comedy work on
Saturday Night Live
and
Portlandia
, he does possess musical skills as a drummer and guitarist, most notably with '80s punk band Trenchmouth. He's combined his comedy and musical skills with the creation of the pro- Margaret Thatcher punk rocker character
Ian Rubbish
and
performing TLC's "Waterfalls" with Dinosaur Jr's J Mascis
at the Berklee Performance Center last year. So he clearly brings a useful array of talent to the gig.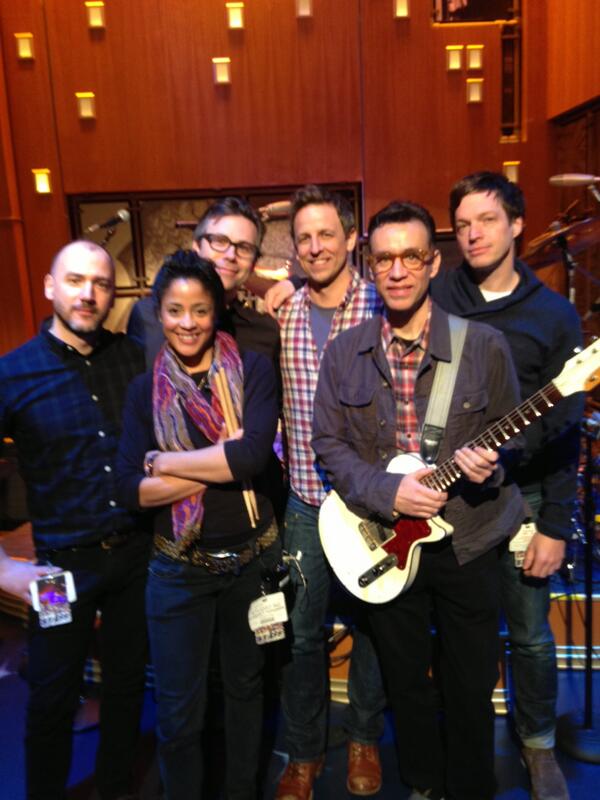 Seth Meyers/Twitter
What is more surprising is who is rounding out the band Armisen has assembled, some pedigreed indie rockers who are unexpected choices for a late night talk show house band. Armisen has tapped Les Savy Fav's guitarist Seth Jabour and bassist Syd Butler and Girls Against Boys keyboardist Eli Janney. Armisen played drums on Les Savy Fav's 2007 album
Let's Stay Friends
(
Annex Box 3
). Girls Against Boys made a minor splash in the mid '90s for combining the disjointed angularity of post-punk pioneers the Fall with pinup looks. Although Janney wasn't part of the GVSB line-up then, you can hear the band in our collection on
Venus Luxure No. 1 Baby
(
CD 19815
).
Drummer Kim Thompson rounds out the
Late Night
band.
The line-up is an unexpected choice, but people said the same thing when the Roots got the job with Jimmy Fallon, and that has resulted in many memorable musical moments.