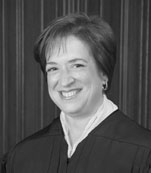 While Tommy Tutone would appear to have nothing to do with the Supreme Court, Justice Elena Kagan worked a reference to his lone hit into a recent decision. In her majority opinion in
American Trucking Association v. City of Los Angeles
, Kagan wrote: "The two directly at issue here compel the company to (1) affix a placard on each truck with a phone number for reporting environmental or safety concerns (You've seen the type: 'How am I driving? 213–867–5309.')" Kagan was in her early 20s when Tutone scored his lone hit in 1982, "867-5309/Jenny."
You can find the Tutone song in
Like, Omigod! The 80$ Pop Culture Box (Totally)
(
CD 21291-21297 Disc 2
) and with songs by artists with similar career trajectories in
VH1 Selections from 1 Hit Wonders
(
MP1630.18 .P66 V5 2007
).
Scott Bomboy, editor-in-chief of the National Constitution Center, reports on this and the history of the song for Constitution Daily:
Justice Elena Kagan adds to the Tommy Tutone legend